BAScloud Connectors
Data collection and transport: A major challenge for property owners
Optimizing properties and safe operation require data from these properties: consumption data, measurement data and default values. Energy meters in particular are often not or only insufficiently connected to building automation systems, or real estate has to do without building control technology. Collecting and transporting this data poses major challenges for real estate owners, and individual solutions are expensive and risky.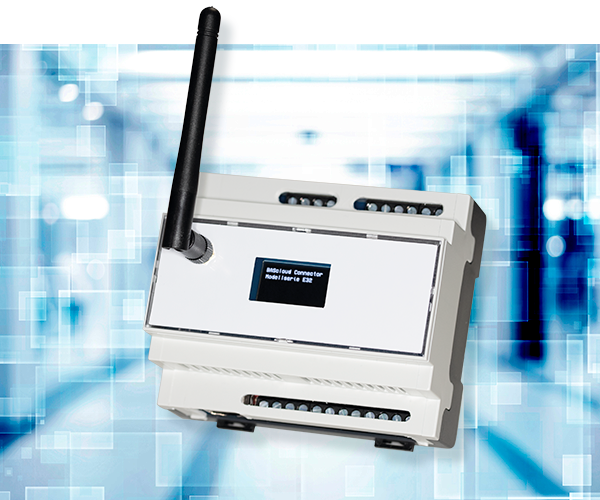 This is exactly where the BAScloud Connector comes in
The BAScloud Connector can be used wherever meter data needs to be read automatically and forwarded to applications and the cloud. It is mainly used in scenarios in which building automation and building control technology do not take these components into account or are not available. Reading meters with pulses, MBUS or IR can also be implemented easily and inexpensively.
The BAScloud Connector connects individual meters or small MBUS networks to the BAScloud. It uses existing WiFi or LAN connections for communication. It is also possible to equip it with a mobile radio module. The communication protocol only contains the necessary data: Expensive LTE or 5G mobile phone tariffs are therefore not required. The BAScloud Connector is delivered by ProFM GmbH ready for installation and with pre-installed firmware and can be configured via the BAScloud portal.
inputs
The basic version has six S0 (impulse) inputs for gas, water and older electricity meters. Other models in the series support communication with MBUS networks, individual MBUS meters or infrared (IR) interfaces.
connection
Communication takes place either via WLAN or Ethernet with PoE. A mobile phone connection (2G) can also be used by means of an additional module that can be integrated.
supply
The basic device is supplied with power via Power Over Ethernet (PoE) or via a power pack (BCC NT) with a 230V connection.
parameterization
Parameterization is carried out conveniently and securely via the BAScloud portal. In this way, the BCC can also be configured and updated remotely.
Six BAScloud Connector models with different functionalities are now available for monthly rental or purchase.